HERBAL VIAGRA ALTERNATIVES

PRO+PLUS XTREME
IMMEDIATE FIRM ERECTIONS
For The Man Who Wants Immediate Results
PRO+PLUS XTREME CAN WORK IN 30 MINUTES. EFFECTIVE UP TO 12 HOURS.

Dr. Bross recommends PRO+PLUS XTREME to men suffering from Erectile Dysfunction and premature ejaculation who want to improve their sexual performance and enhance erection firmness.
You can achieve intense erections, incredible orgasms, increase sensitivity, arousal and sexual stamina.
Greater self-confidence. Reduce recovery time between sexual intervals. 100% natural.
You can help your erectile dysfunction without a prescription!
You can have longer, firmer erections and stronger climaxes.

Handy 4 Pack
Carry PRO+PLUS XTREME with you All The Time. BE READY ANYTIME.

REAL SCIENCE, REAL RESULTS, FEATURED ON 20/20 TELEVISION.
Size Matters.


• Feel younger. Greater sexual health.
• Can make any man at any age a better lover.
• Take your partner to new levels of satisfaction.
• Enhance Any Sexual Experience For Maximum Sexual Fulfillment.
• A continuous maintenance program can produce long lasting results.
• All Natural Herbal Ingredients.

PRO+PLUS XTREME. World's Best Male Enhancer
CAN WORK IN 30 MINUTES. EFFECTIVE UP TO 12 HOURS.










SUPER V
FIRMER, LONGER LASTING ERECTIONS.
SUPER "V" NATURAL VIAGRA ALTERNATIVES CAN GIVE YOU FIRMER, LONGER LASTING ERECTIONS
Professional Strength Formula can make it possible for you to obtain and maintain a super hard erection. Young or old at any age you can have firm erections and stronger climaxes. Gain control of your erections and helps you put a stop to pre-mature ejaculations. You can enjoy the sexual power of men half your age. The answer is to restore sexual virility.
The Natural Alternative for Firmer Erections.
• Can Give You More Volume And Stronger Climaxes.
• Can Boost Sexual Energy and Stamina.
• Reduce Recovery Time Between Sexual Intervals.
• Alternative to Prescription Drugs for Erectile Dysfunction and Impotence.
• Take Before Sex To Obtain And Maintain A Firm Erection.
• Super V Can Restore Sexual Virility.
• Can Prevent Pre-mature Ejaculation.
• All Natural Herbal Ingredients.
• No Known Side Effects.
Letters from some of our satisfied customers.
"Sexual activity has improved a hundred percent!" RL, Maine
"Instead of once a month, I enjoy sex now three or more times a week." AF, Texas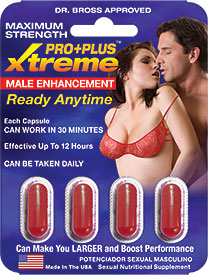 PRO+PLUS XTREME 4 PACK # XR
(4 CAPSULES) Item Number: #XR
$9.95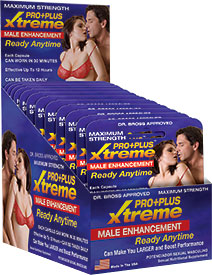 Pro+Plus Xtreme Display Box #XX
EACH DISPLAY BOX 12 Packs of
4 Capsules (48 Capsules)
Item Number: #XX
$48.75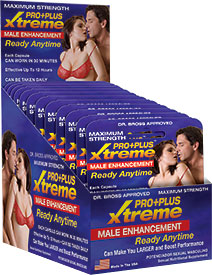 Pro+Plus Xtreme Case #XE
EACH CASE 144 Packs of
4 Capsules (576 Capsules)
Item Number: #XE
$396.00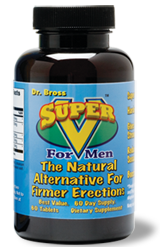 SUPER V MALE ENHANCEMENT TABLETS
Item Number: VMNE
1 Bottle 60 Tablets
2 Months Supply.
$50.00 Each.